exertis "The home of Fortinet in Ireland"
Why Exertis & Fortinet?
Welcome to Exertis, one of the Ireland's largest and fastest growing technology distribution and specialist service providers. We partner with 700+ global technology brands and over 13,000 resellers, e-commerce operators and retailers.

Fortinet (NASDAQ: FTNT) secures the largest enterprise,service provider, and government organizations around the world. Fortinet empowers its customers with intelligent, seamless protection across the expanding attack surface and the power to take on ever-increasing performance requirements of the borderless network—today and into the future. Only the Fortinet Security Fabric architecture can deliver security without compromise to address the most critical security challenges, whether in networked, application, cloud, or mobile environments. Fortinet ranks number one in the most security appliances shipped worldwide and more than 450,000 customers trust Fortinet to protect their businesses.

A Leader in both the 2020 Gartner Magic Quadrant reports for
Network Firewalls and WAN Edge Infrastructure.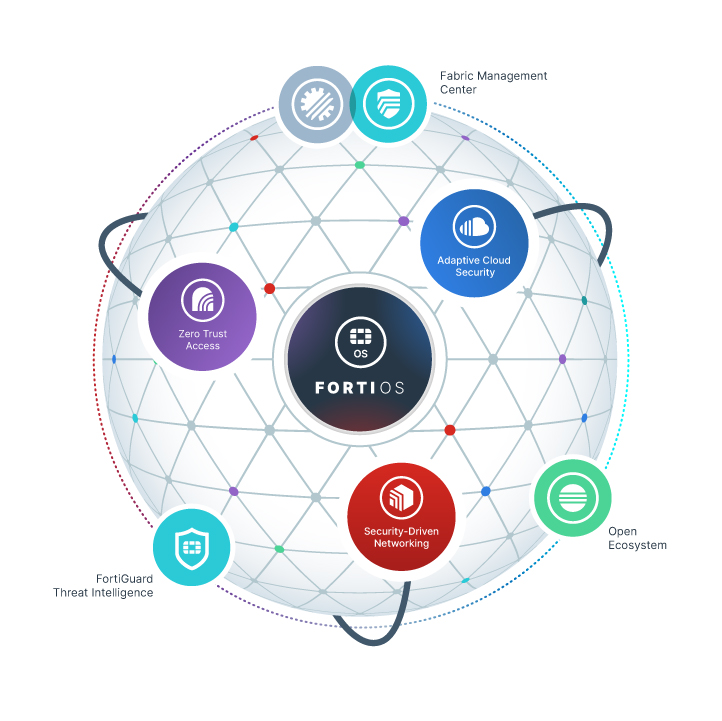 Fortinet Security Fabric
Organizations are rapidly adopting digital innovation (DI) initiatives to accelerate business, reduce costs, improve efficiency, and provide better customer experiences. Common initiatives involve moving applications and workflows
to the cloud, deploying Internet-of-Things (IoT) devices on the corporate network, and expanding the organization's footprint to new branch locations. With this evolving infrastructure also comes security risks. Organizations must cope with growing attack surfaces, advanced threats, increased infrastructure complexity, and an expanding regulatory landscape. To accomplish their desired DI outcomes while effectively managing risks and minimizing complexities, organizations need to adopt a cybersecurity platform that provides broad visibility across their environment and a means to easily manage both
security and network operations.

The Fortinet Security Fabric solves these challenges with broad, integrated, and automated solutions that enable:

> Security-driven Networking that secures and accelerates the network and user experience.
> Zero-trust Network Access that identifies and secures users and devices both on and off network.
> Dynamic Cloud Security that secures and controls cloud infrastructure and applications.
> Artificial intelligence (AI)-driven Security Operations that automatically prevents, detects, and responds to cyber threats.

Additionally, the Security Fabric can be readily extended across organizations that run diverse solutions through the Security Fabric ecosystem of seamless third-party integrations. The Security Fabric ecosystem helps minimize gaps in enterprise security architectures while maximizing security return on investment (ROI), and all under a single management console.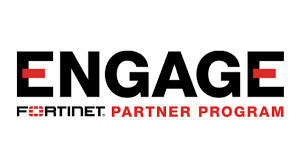 More Flexibility and Greater Opportunity
The Fortinet partner program is based on three basic concepts to help you engage and succeed in today's new security environment:

Engagement – you choose what kinds of expertise you want to develop and the benefits you want to enjoy, so you
have more control than ever over your success with Fortinet.

Business Model – you can choose to engage with Fortinet in any or all the three business models: Integrator, MSSP,
or Marketplace. Each one has benefits that will help you grow that segment of your business.

Specializations – Engage sets you up for success with a path to expertise for the solutions that are driving demand
in today's fast-paced security environment, including SD-WAN, Dynamic Cloud, Data Center, and Secure Access and SD-Branch.
How to go to market with Fortinet & exertis Ireland
Engage and Explore with exertis & Fortinet in 180 Days - our roadmap to success
At exertis Ireland we want to ensure that we enable our partners to succeed and grow. We have developed in conjunction with Fortinet our 180 day induction plan for all new partners
The purpose of this plan is to ensure that within 180 days of joining as a Fortiner partner that you are fully aware ofthe available resources to support your growth and revenue.
The first 180 days exertis and Fortinet will set out 4 milestones for you our partner to achieve which in return will putyou in the best position to be able to consult with your customers to help them realise their solutions and potential forgrowth. These milestone or missions are part of our program to enable your team to become comfortable with the security fabric.

We look forward to welcoming you onboard and supporting your future ambitions.
Fortinet's NSE Certification - How it can help your Business deliver
The Fortinet Network Security Expert (NSE) program is an eight-level training and certification program that is designed to provide interested technical professionals with an independent validation of their network security skills and experience.
The NSE program includes a wide range of self-paced and instructor-led courses, as well as practical, experiential exercises that demonstrate mastery of complex network security concepts.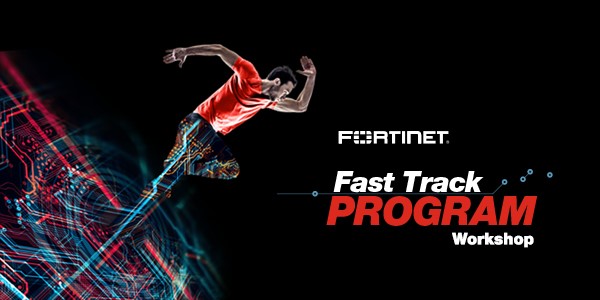 Fortinet's Fast Track training program in conjunction with exertis Ireland

Get a head start and stay at the cutting edge of network security by experiencing the Fortinet accelerator program, the Fast Track Program. The program consists of a series of short, comprehensive workshops that cover important topics in cybersecurity.
Fortinet created the Fast Track Program to support your pursuit of the technical expertise and knowledge required to take full advantage of the Fortinet Security Fabric and protect your network against all current and future security threats. Any interested Fortinet user can attend the Fast Track Program: new or proficient. Regardless of experience level, all attendees will walk away with a better understanding of how Fortinet can benefit their organization.

What does it cost?

The Fast Track Program is delivered as a complimentary service to our customers and partners.

Where and when can you attend?

Fast Track is a global program, so to meet the needs of participants around the world, Fast Track sessions are scheduled weekly on a Friday by Lorcan Murphy.

What do I need to participate in a fast track program?

A laptop with a current browser. For more information, or if you would like to register an upcoming
workshop please contact Lorcan.murphy@exertis.com

Fortinet's Trade up Program - Keeping our customers refreshed
The Fortinet Tradeup Program allows you to access the latest Fortinet Solutiosn. bringing you improved performance, updated security and an advanced feature set whilst benefitting from real cost savings.
Trade up your End-Of-Order (EOL) Fortinet units for new models and receive generous discounts

Benefits
Fortinet customer can also benefit from a transfer of existing support subscriptions to their upgraded unit, when a recommended replacement is chosen within the trade matrix (Copy available on request)
Contact Ireland.security.sales@exertis.com today for more information
Fortinet's Deal Reg - Winning in the market
Fortinet currently run a deal registration programs for all its partners. The purpose
of the program is to support partner identified opportunities with commercial and
technical support whilst given the partner protection from Fortinet.

The Criteria for deal registration is as follows:

> Deal must be more than $10k approx €8,500
> Partner must have identified opportunity
> The opportunity is not part of a tendering process
Contact your Fortinet Team today @ Ireland.security.sales@exertis.com